Extendicare COVID-19 Response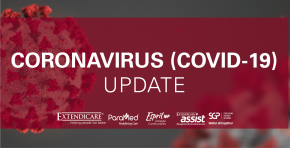 October 2, 2020
As we come to the end of month seven of the pandemic, our focus at Extendicare remains steadfast on providing the care and service that residents, clients, patients, team members and families rightfully expect. We are very grateful for the hard work, care and commitment our team has displayed to our residents, clients and patients.
COVID-19 cases are on the rise in communities across the country. The rising case numbers highlight our need to stay vigilant. We thank everyone – staff, families and visitors - for your continued efforts to keep our people safe.
Extendicare continues to work closely with Public Health authorities in all jurisdictions to ensure our response is informed with the most recent advice and evidence to keep our people safe, to keep the virus out of our homes and to move those homes that are in outbreak into recovery.
We implemented a staff testing program in long-term care and retirement homes across Ontario. It continues to prevent outbreaks and mitigate the impacts of outbreaks when they do occur, allowing us to know where the virus is so that we can properly respond to it. A big thank you to our ParaMed team members who have supported this program as well, and to our staff who have committed to participating.
There are challenges ahead as we get through this pandemic. Thank you all for your continued support remaining focused on the health and security of our residents, clients, their families.