Extendicare breaks ground on its New Retirement Community in Barrie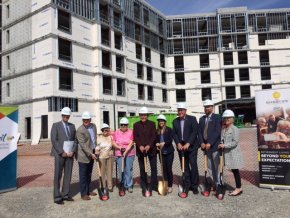 MARKHAM, ON – (September 7, 2018) – Extendicare announces the construction of its' new retirement community in the city of Barrie, Ontario, under the umbrella of its retirement brand Esprit Lifestyle Communities. The residence will be a six-storey non-combustible building with a basement. It will have 124 suites, comprised of studio, one bedroom and two bedrooms suites. There will be Independent Supportive Living, Assisted Living and Memory Care suites.
Extendicare is a leading provider of care and services for seniors in Canada. Throughout our network of 118 owned and managed homes as well as our home health care operations, we are committed to delivering care throughout the health care continuum to meet the needs of a growing senior population in Canada. Our qualified and highly trained workforce of 25,000 individuals is dedicated to helping people live better through a commitment to quality service and a passion for what we do.
On announcing the new company's new initiative, Tim Lukenda, Extendicare's President and CEO said, "We are very excited to announce the development of this new retirement community through our Esprit Lifestyle Communities brand. Extendicare is committed to providing seniors with services right through the Continuum of Care from home care to retirement and long-term care."
"Upon completion, this will be a top-quality seniors' retirement community in a great location. Our new building will provide the amenities and services that the seniors of Barrie want and deserve right here in your city with no need to travel to other locations when the need arises", Mr. Lukenda added.
Extendicare's new community will provide a place where mature adults can enjoy life to the fullest.
For further information contact:
The Barrieview Retirement Living
3 Concert Way, Barrie ON
705.812.6485
Media Inquiries:
Sofia Mavumba, Communications Manager
Tel: 905-470-5494
Email: smavumba@extendicare.com