Happy National Payroll Week!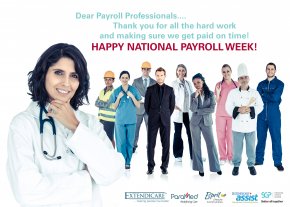 National Payroll week is September 12-16 this year. The hardworking payroll team at Extendicare makes sure that our 25,000 plus employees receive their hard earned pay every week. With staff in over 100 locations across the country, with varying pay rates and benefit programs this is no small feat. Often these individuals only hear about issues with payrolls and are not praised often enough for their efficiency in getting this task done week after week. With Extendicare's continued growth and the addition of new employees all the time there is never any rest for this team.
I personally know that this dedicated team comes to work every day with a goal of ensuring each and every Extendicare employee gets paid – accurately and on time. Anything short of that is not ok. I have seen them go above and beyond on many occasions and on behalf of Extendicare, I would like to express our thanks for their efforts and desire to strive for perfection.
A long service member of our payroll team remembers a story from back in the mid 80's. Extendicare payroll was located at 1 Yonge Street. Due to the extra workload that occurs each year end, payroll staff were required to come in to work on New Years' Day. There was also a huge ice storm that occurred on New Year's Eve leaving the streets unsafe to walk on. In order to get the staff in to the office, a large rope was tied to the building and employees were required to hold onto the rope and slide themselves safely across the icy sidewalks to get to the front door. One member of our payroll team vividly recalls "skating" into work that day. What dedication!!
During this week let us also remember the other unsung heroes that keep our organization running; the maintenance man at one of our long-term care homes who comes in on the weekend to fix a leaky faucet, the laundry aide in a retirement community who goes out of her way to make sure that a resident's favourite wool sweater doesn't get ruined in the wash and the ParaMed call centre employee who takes extra classes to improve her Arabic so she can speak to a new client.
Extendicare is a health care company and we strive to be the BEST provider of senior care and services in Canada – but to provide that care and service we need more than nurses and health care aides; we need housekeepers and office administrators and recreation aides and IT help desk staff and definitely, our payroll professionals.
Thank you to all of them for their continued hard work and dedication! Happy National Payroll Week!
By Elaine Everson, Vice President and Chief Financial Officer