Golfing FORE a better future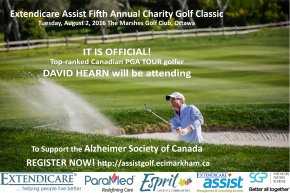 On August 2, 2016 we are hosting our Fifth Annual Extendicare Assist Charity Golf Classic at the Marshes Golf Club in Ottawa, Ontario. The proceeds of this tournament go to the Alzheimer Society of Canada to support the Culture Change Initiative. The goal of this initiative is to improve the quality of care and life for Canadians living with Alzheimer's and other dementias in care homes. Our fundraising dollars have been used to create culture change resources like the Relational Caring Learning Series, which focuses on increasing staff knowledge about relational caring principles through short video clips and user-friendly discussion guides for front-line staff.
I love golf, so I am thrilled to be able to use this platform to raise money for such a great cause. In 2012, we made a commitment of raising $250,000 over five years, and with this year's tournament we expect to reach the $500,000 mark.
This year is especially exciting for us because of our new multi-year partnership with top-ranked Canadian PGA Tour golfer David Hearn. In 2015, David founded the David Hearn Foundation, whose central focus is to support the Alzheimer Society of Canada in reducing the personal and social impacts of the disease by raising funds to provide individuals and families with needed programs and services. David is a strong supporter of the Alzheimer Society of Canada, making his partnership with the Extendicare Assist Charity Golf Classic a natural fit.
I look forward to a great day out on the links and encourage others to join us. You can register for the tournament by visiting: http://assistgolf.ecimarkham.ca/
By Gary Loder, Vice President – Managed Homes and Consulting