Celebrating Health Care Aide Day | Lilith Hunter, 47 years of Dedication to Extendicare Tuxedo Villa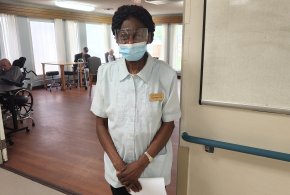 Today marks #HealthCareAide Day in Alberta and Manitoba. We recognize the many dedicated Health Care Aides who provide essential daily care for our residents in our long-term care homes and patients in our ParaMed communities, every day.
We spoke with two HCAs making vital contributions in the lives of our residents and patients.
Lilith Hunter, a Health Care Aide at Tuxedo Villa in Winnipeg, Manitoba, is an incredible example of how vital this role is in a long-term care home. As a long-standing team member, she has devoted a remarkable 47 years of her career to the home community.
Lilith began working at Tuxedo Villa in 1975. At that time, she recalls being the first person of colour working at the home.
After watching seniors' care evolve for nearly half a decade, today, she's 85 years old and still enjoys her connection to residents. Lilith provides residents assistance with eating, answers residents' requests for support, and is a valuable, experienced resource to the care team.
In June, Lilith was also nominated as a Care Champion, in our nationwide program that recognizes the meaningful work, of our team members across Canada who go above and beyond every day in caring for our residents and patients that we serve.
Thank you, Lilith, for your outstanding and unwavering commitment to our community at Tuxedo Villa.